HYBRIS: CHOREOGRAPHING WHITENESS

Hybris: Choreographing Whiteness is based on personal and scenic performativity: The common linguistic and physical expressions of the Black female hip-hop artist and the (white) queer man, dissected through mediums of dance and rap.

It is a three-part multi-disciplinary art project composed of a dance performance, a publication, and a rap EP. The three individual parts inform each other and play off a form of dynamic co-creation.





DANCE PROJECT



The dance performance explores how I (Jonas Øren) have created and continue to create "Jonas", both on stage and in everyday life. "Jonas" aspires to be fierce and effortless in language and movement through a blend of performative expressions. His whiteness is shaped and choreographed based on an understanding of sexuality, gender, identity, and origin that are both fortifying and damaging. «Whiteness and white racialized identity refer to the way that white people, their customs, culture, and beliefs operate as the standard by which all other groups of are compared*».

*The National Museum of African American History and Culture
(https://nmaahc.si.edu/learn/talking-about-race/topics/whiteness)

To me, this expression is a blend of a physical presentation and a language I refer to as effortless and fierce which at the same time shows impressions of resistance and an essential rebuilding of the self. It is a reaction to the fact that the queer man's and the Black female's bodies traditionally are devalued. In what ways does resistance nourish a physical sense of community and a form of self- staging production? How does this shape identity and whiteness, and how does this contribute to exposing inequalities between the black female authors and the dancing, self-staging man? Is the casual conflation of a white gay male's experience with that of black women appropriation, not solidarity? What can cultural appreciation look like without appropriation





Trailer:



Pictures: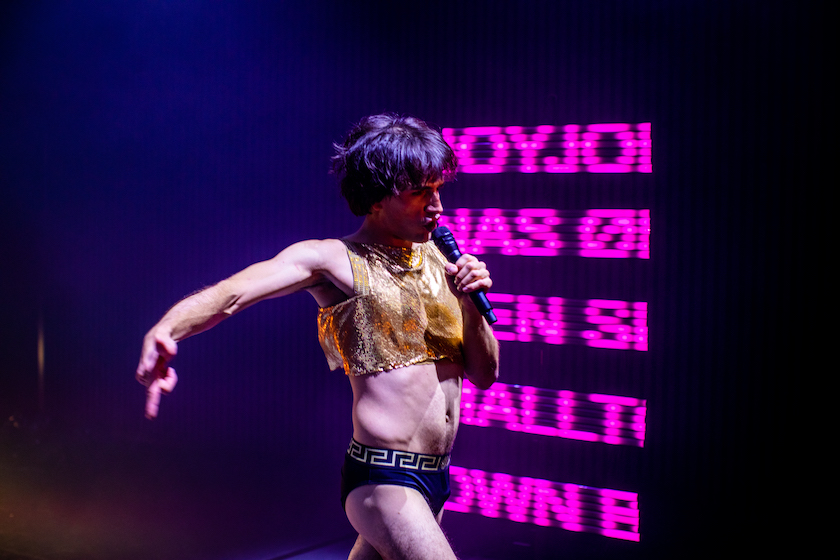 Credits:

Head of project, choreographer and performer:
Jonas Øren

Dramaturg:
Jessica Lauren Elisabeth Taylor

Light design and -engineering:
Yasin Gyltepe

Producer:
Ingeborg Husbyn Aarsand

Artistic guidance:
Thomas Talawa Prestø, Cherish Menzo, Lars Vaular

Contributors:
Camara Lundestad Joof, Fatumata Kamara, Regina Tucker,

Outer eye:
Deise Nunez.





Supported by:



.

Arts Council Norway: The Cultural Fund & The Audio and Visual Fund. Kulturetaten Oslo Kommune. The Fritt Ord Foundation. Dansearena Nord.



PUBLICATION

RAP-EP:



(Spotify link)

1. On Point

Performed and text by Jonas Øren

Written by Jonas Øren, Erlend Lyngstad

Produced by Kvam

2. Oppskrift

Performed and text by Jonas Øren

Written by Jonas Øren, Marius Palme Reiertsen, Øyvind Holmboe Basmo

Produced by Palme
3. Opp Ned

Performed and text by Jonas Øren

Written by Jonas Øren, Øyvind Holmboe Basmo,
Amund Holmboe Basmoe, Eirik Basmo Ellingsen

Produced by Basmo Fam

4. Effortless

Performed and text by Jonas Øren

Written by Jonas Øren, Erlend Lyngstad

Produced by Kvam
---
Jonas Pedersen Øren 2019 — Oslo